Senior Caregiving at It's Best
Services
In the home or on the road. We provide compassionate, reliable care.
In-Home and Traveling Caregiver Services
Our wide variety of compassionate, professional caregiving services are tailored to the needs of each client with the goal that seniors remain independent and active.
In-home senior caregiving services offer personalized and compassionate care within the familiar surroundings of their own home. Highly trained caregivers provide a wide range of assistance, including help with daily activities like dressing, bathing, and meal preparation, as well as medication management and companionship. In-home caregiving allows seniors to maintain their independence while receiving the support they need to live comfortably and safely.
Traveling caregiving services cater to the needs of seniors who wish to travel to a seasonal home or travel for leisure. Traveling senior caregivers enable seniors to travel without worrying about their health or mobility limitations.
Whether at home or on the road, both our in-home and traveling senior caregiving services aim to enhance the quality of life for older adults by delivering personalized, trusted, and compassionate care.

24/7 Non Emergency Care
Caregivers are certified, background-checked, fingerprinted, licensed and bonded.
Medication Reminders
Someone to stop by with reminders to take medications and vitamins.

Meal Preparation
In-home meal preparation or a week's worth of delicious, healthy, easy-to-heat meals.
Appointments
A "second set of ears" at medical appointments to take notes and help advocate for the patient.
Errands
Transportation to the grocery store, banking, pharmacy and more.

Cleaning
From regular light housekeeping to deep cleaning after a loved one passes or moves into assisted living.

Household Tasks
Staying safe at home means installing handicap bars or making light household repairs.

Respite Care
Short-term caregiving provides relief to family caregivers so they can recharge and care for their own well-being.

Travel & Transportation
Transportation or companionship to seasonal homes, family vacations, events, or milestone celebrations.

Transitional Moves
Help with downsizing, moving to assisted living, or moving to be closer to family.
Estate Sales & Downsizing
With transitional moves, coordinate with movers and estate sale teams, locally or out-of-state.

Hospice Care
Compassionate care tailored to the unique needs of those nearing
the end of life.
Here for Your Family
We are a locally-owned business, right here in the Coachella Valley and have relationships with local hospitals and rehabilitation facilities.
And we take our commitment to the local community seriously. So we are here for you and your loved one 24/7/365.
If you have a need, a question, a concern. Don't hesitate to call.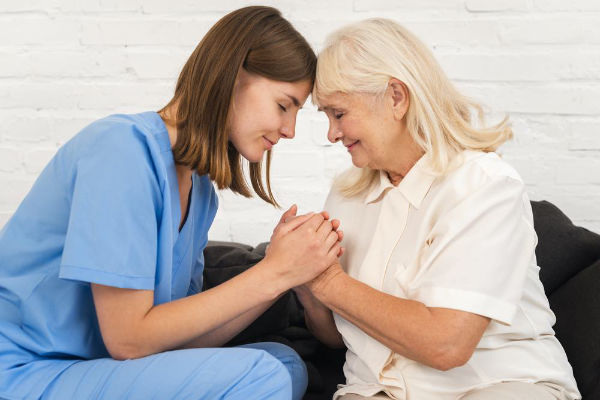 Getting Started
Designing an individualized care plan
There's no such thing as one-size-fits-all in caregiving. That why we perform a full assessment for each new client. Based on the assessment, specific goals and objectives are established, focusing on promoting the client's independence, safety, and well-being. We learn about each client's routine, their likes and dislikes, current medications, and medical history to develop a customized care plan for each client.
1. Consultation
We chat by phone to get an initial understanding of the care needs and review any concerns.
2. Intake Meeting
We meet with the senior in their home to assess both short term and long term care needs.
3. Care Plan
We design a care plan for an ongoing or occasional basis, depending on need.
4. First Visit
Establish a rapport between the caregiver and the client and review any medications.
"Sometimes the referrals we send are for clients who need the most help with the least ability to pay during the death process of a loved one. Marie has always found a way to provide end stage life care and give the loved ones a piece of mind and needed rest with dignity and compassion."
"Marie and her team are a life saver! We hired Marie during Covid! And haven't looked back since! My spouse has Alzheimer's and Marie created a care plan to honor my wishes to keep my wife at home till the end of life. We have 24/7 care now for the last 3 1/2 years."
Frequently Asked Questions
Will our loved one have the same caregiver each visit?
We match caregivers to the needs of your loved one so they can remain independent and active. In most cases you will have the same caregiver.
Do you take insurance?
Yes, we accept long-term care insurance.
Are visits cancellable?
We understand that needs and plans change. A shift can be cancelled within 24 hours at no charge.
Will the caregiver cook for our loved one?
If cooking is part of the care plan then yes, we will include cooking in your loved one's home. We will also stop at the grocery store or take your loved one grocery shopping.
Will the caregiver help with medication?
Regular medication and supplements are very important. Caregivers help with medication reminders and refills.
Will the caregiver help with cleaning?
Yes, light housekeeping such as laundry, sweeping, vacuuming, dishes and taking out the trash. Deep cleaning is also available with a separate team/service.